Start : 2023/01/14 07:00
End : 2023/01/15 02:00
SEXY SPORTS ATTIRE (FOOTBALL SEASON CLIMAXXX) HOUSE PARTY! 
You don't have to love football to enjoy this sexy house party event… but it helps if you love sexy people in sexy sports attire!! With the Super Bowl on the horizon, you can create your sexiest sports outfit to celebrate through dancing, socializing and on-premise play. Thematic attire is always voluntary and we value every guest, with or without sexy costumes.
Special Younger Members Night: Please note: In response to input from some group members with young families, it's our privilege to offer special discount pricing to this event for guests who are under 40 years old. We fully support your efforts to balance work, family and adult play time. This is our 1 party of the year that features the special "under 40s" discounted ticket. It's our privilege to offer this small gesture of support. If you are under 40, simply send us an email note requesting a ticket and we will send you the discounted purchase invoice link. The magic number is 40 so we are giving 40% off the ticket price to guests who are under 40 years old.   And of course, all of our wonderful members are welcome. Every AFC/GenieWishes party provides access to many of the most exceptional people in the Western United States: warm, friendly, sexy, educated professionals who are always vetted for safety, authenticity and respect. We hope you can join us!!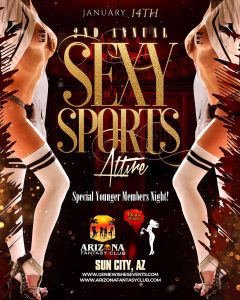 8 FAQs:
* What is the unique concept for this gathering?
Sexy Sports Attire is our annual celebration of football and all our other sports passions. Keep in mind, that ALL SEXY SPORTS ATTIRE are welcome. So this is not limited to football only. 🙂 In fact, costumes are not required (guests are welcomed warmly in any sexy attire) but this sports attire concept creates plenty of novel opportunities for creative fun! Most importantly, as always, our exceptionally high quality group of sexy friends allows everyone to relax, cut loose and celebrate in a festive and safe environment. As explained above, this is also a celebration of all the younger members of our group. If you are under 40, simply send us an email note requesting a ticket and we will send you the 40% discounted purchase invoice link.
* What vibe should we expect from the people attending?
Our gatherings have a long tradition of feeling INCLUSIVE with warm, friendly people who want to meet new friends and connect with old friends. We are not fans of cliques or arrogance and our belief is that everyone that attends will be very open in their outreach. Generally speaking, our vetted guests tend to consist of attractive, fit, educated, respectful professionals in the 25 – 55 age range.
* Is this intended to be a play evening?
Yes. One of the benefits of the private location, is our ability to enjoy each other as friends, AND to get naked as the evening unfolds. We are very sensitive about promoting a safe environment for all, those who want to play, and those who do not. We will provide etiquette details and elaboration on what to expect in follow up notes. In a nutshell, you can expect a flirtatiously sexy atmosphere early, and a sexually charged environment later in the night. Most importantly, we promote a scenario where everyone can feel safe and feel confident that your boundaries will be respected.
* Where is the location going to be?
The address of the house will be announced privately to all of our RSVP list during the week of the event. We've had several parties here in the past.  It is the beautiful Sun City/Peoria area home of a couple from our group. The location has a warm vibe including a wonderful hot tub,  multiple on-premise play rooms for private and group play upstairs, sexy lighting, a busy dance floor area with stripper pole, and a safe downstairs area for food and visiting and sharing.
* What shall we bring related to food and drinks?
This event is BYOB… We will provide mixers and yummy food items as well.
* Is this gathering for couples only?
Nearly all of our Kasidie friends are couples. We are hopeful that several exceptional single friends may attend solo as well.
* Is it okay if we want to invite some friends who are not on the guest list?
Unfortunately, that is not our format this time. We plan to limit the guest list to a medium size group of about 65 people that have been vetted by us.  Please do not discuss the party with people who are not invited.
* How do I secure tickets before the event sells out?
Tickets are for sale now on a first come, first served basis through our community hubs at www.geniewishesevents.com … and www.arizonafantasyclub.com… During the past year, our events typically sell out about 5 to 10 days before the party. So we recommend you secure your tickets as soon as you decide to join us. Remember, your RSVP is helpful to communicate that you are interested in attending the event. But RSVPs are not limited, and they do not secure a space… PAID TICKETS are the only way to protect your space before they sell out. At this time, unused tickets can be applied toward future tickets as well. So your advanced purchase dollars are always protected with us.  🙂